Spirit of Hampton Winner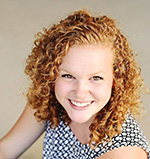 We would like to congratulate Courtney Shenk of the Hampton Inn & Suites Mount Joy who has won the Spirit of Hampton Award!
Whether it's filling in for sick teammates, lending a hand in other departments or working overtime at a sister property, you can always count on Courtney to always be there for you.  And it's not just at the hotel, Courtney is a "Super Starfish" who is really involved with her community and humanitarian needs.  She regularly goes on mission trips to other countries like Africa, Australia and Austria where she helps teach children English.  At her church, she leads a youth group of middle schoolers and has even been known to anonymously pay dues for an individual who couldn't have otherwise been able to attend a retreat.  Thank you for all you do "Crunchie", to make our lighthouse brand shine brighter than ever before!
Back to News